Hi, Im from Tasmania (down under Australia), married, 6 kids, 1 dog, 2 birds, have been collecting parts to build a '28 Model A roadster for around 22 years, when done it will resemble a true '50's era hot rod, have owned the '57 F100 for around 12 years, when done it will be a ground hugger with stock 272 and triple 97 Strombergs, will run Salt Flat Special wheels and short styleside bed, it has to be finished this year, I will keep uploading pics as work progresses. Cheers.
Very cool update. Please add pictures and info as you go, Bill
Admin




Posts

: 226


Join date

: 2011-01-11


Age

: 45


Location

: Douglasville, GA



Welcome, Looks like you have your hands full! Great truck.



Posts

: 32


Join date

: 2011-01-12



I have a 58 in which i posted last month, glad to be involved and more than willing to share



Posts

: 2


Join date

: 2011-01-12



Hay Phill you need to get some pics of your truck on here, I love the 2tone job on yours.



Cheers Ash
Well I finally sold my other car, she was an SS Holden ute 2003 and the next day I sold my Chev 48 pick-up cab on a Holden chassis. Now I am able to prepare an area of my driveway and move my large single car garage to an accessible area to house my 57 while we finish her off, I am so pumped right now I am like a little kid with a new cubby house about to be built. Work started today on the driveway with the marking out ready for a small excavator to do some slight levelling, over the weekend I hope to pull down the old garage from down the yard ready for its new home at the end of my driveway. Once the shed is erected my 57 cab will be reunited with its chassis ready for final bodywork and be all bolted back together. I will keep you all updated on the progress. I am so excited to be getting closer to the end after such a long ardous task.
My VY SS ute, the day of our wedding 2010
350Ci 6 speed manual, went like a cut cat LOL.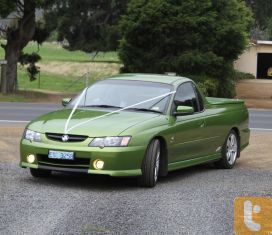 Cheers Ash

Got home from work today, borrowed a 1.5 tonne digger from work and had some fun levelling my driveway, also dug a trench for a drain. Tomorrow I will dig the peir holes and another drain, will also start dismantling the old garage ready for the weekend when hopefully we can start to move it into its new area.
I had a great birthday, shared with great friends, thanks for the happy wishes. I will update progress on the shed tomorrow.
Cheers and goodnight Ash

---
Permissions in this forum:
You
cannot
reply to topics in this forum