It looks like it's been a while since anyone has posted on here. I am in possession of a 1957 F100. I had planned on using the bed on another truck but some other issues have come up and it looks like I wont be doing that anytime soon.
So, I have the truck and I'm thinking of parting it out. It is in fairly good condition body wise. It is without engine and transmission. Rearend is intact and not froze. Bed is dent free with a couple very small rust outs near the rear bottom corners. Tailgate is intact and dent free and functional. Tail light lenses are intact. Door glass is intact as is the front windshield. Back glass is spider webbed. Interior is bad but dash is intact with all gauges and knobs. Steering wheel and shifter. No hood on the cab. Grill and fenders in good shape though. Has both bumpers. I'll attach a pic. If anyone is interested in parts or whole let me know. otherwise it's going to scrap.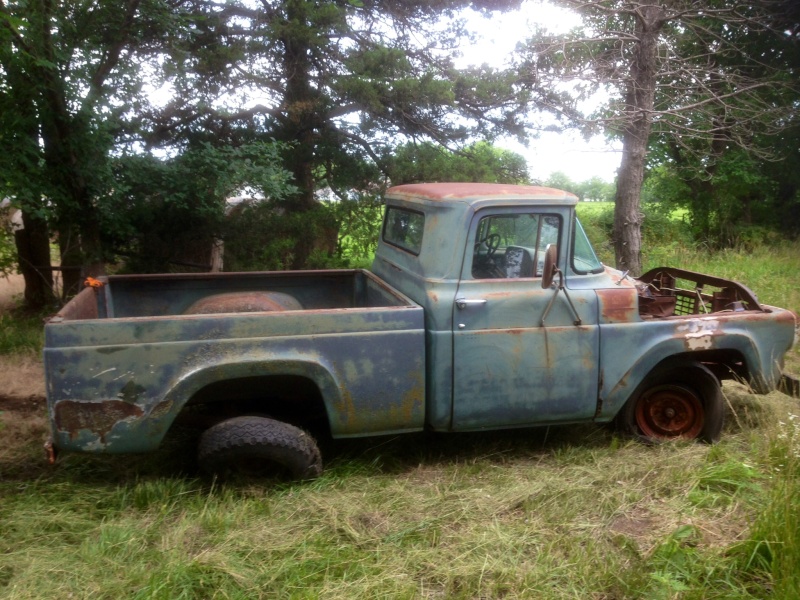 Posts

: 4


Join date

: 2014-07-08






Posts

: 2


Join date

: 2014-11-28


Location

: Phoenix, AZ



Sam, where are you located? Would like to come and look at the truck.



Posts

: 1


Join date

: 2014-12-02



Hello: I am very interested in purchasing the grill if it is a 1957. That means it should only have two head lights.
If you could reply here as I am a new member and cannot leave an email address..Or you could leave an email address.

Thanks
Doug
Mechanic1959



Posts

: 3


Join date

: 2015-02-21



I'm sorry about the long absence. The parts truck is located in Southeast Kansas. It's vin reads as a 57 but it has a 4 headlight grill. Any other questions feel free to email me at
samkeele1@gmail.com
I will respond a lot sooner. Probably the same day.



Posts

: 4


Join date

: 2014-07-08



Similar topics
---
Permissions in this forum:
You
cannot
reply to topics in this forum